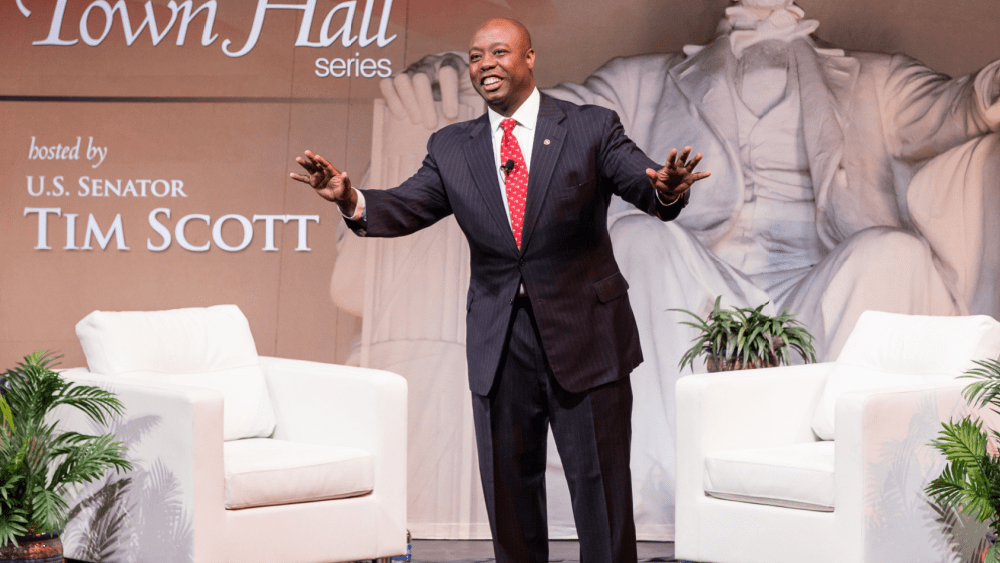 South Carolina Sen. Tim Scott, the lone Black Republican in the Senate, announced on Monday that he is running for president. Scott had teased his announcement in recent weeks, first announcing an exploratory committee in April and then officially filing the paperwork Friday to run.
Speaking before a crowd of nearly 2,000 attendees, Scott said at his alma mater Charleston Southern University: "Joe Biden and the radical left are attacking every rung of the ladder that helped me climb. And that is why I am announcing today that I am running for president of the United States of America."  Scott joins the expanding field of contenders looking to knock off former President Donald Trump, the current Republican frontrunner who holds a commanding lead in GOP primary polls.
Scott's political career began in the Charleston County Council in the mid-1990s before serving in the state House and the U.S. House.  Scott was first appointed to the Senate from South Carolina in 2012, by then-Gov. Nikki Haley (now a presidential rival) to replace retiring Sen. Jim DeMint. Scott later won the election to fill the rest of his term in 2014 and went on to win full terms in 2016 and again last year.
In his Monday address, Scott described the campaign as a time to choose between "victimhood or victory" and "grievance or greatness." He portrayed himself as the candidate "the far-left fears most … I disrupt their narrative. I threaten their control. The truth of my life disrupts their lies!" Scott has previously spoken of the need for the Republican party to nominate someone who can defeat Democrats next fall.  In closing his remarks on Monday, Scott said: "We need a president who persuades not only our friends and our base. We have to have a compassion for people who don't agree with us."
Posting to his Truth Social platform on Monday, Trump said: "It is rapidly loading up with lots of people, and Tim is a big step up from Ron DeSanctimonious, who is totally unelectable. I got Opportunity Zones done with Tim, a big deal that has been highly successful. Good luck Tim!"
Editorial credit: Crush Rush / Shutterstock.com